Guardian Scientific LTD.

Device for Non-Contact Measurement and Evaluation of Thin Metal Layers.
NSRM -12

Guardian Scientific NSRM-12 는 고성능 비접촉식 표면저항 측정기입니다.



용도 :비접촉방식으로 플라스틱 foil 이나 paper glasse등 metalized substrate의 표면저항 측정
........... .피막으로 보호된 금속 표면의 저항 측정

- Metallized_capacitor foil
- Window films (sun protection)
- Metallized_glass (Low-E; ITO, etc.)
- Solar_cell production
- Metallized_labels
- Flexible_Circuit Boards (FCB)
- Galvanic_coatings
- Sputtered_layers
- etc.



Gap for Sample : 1~25mm

No Galvanic Contact to Metallization

Micro Processor Controlled

Range :0.5-ohm/square ~ 50 ohms/square

Correction and Converting Function

Limit Monitoring

Different Unit :Ohm /Siemens

Automatic Adjustment and calibration

Peak Value Indicator(Max/Min)

Serial Interface (Connection to PC or Printer)

2 line LCD, 16 Character/Line표시

Measuring Method : High Frequency (Eddy-Current )Method

Automatic Adjustment and calibration

Peak Value Indicator(Max/Min)

Serial Interface (Connection to PC or Printer)

2 line LCD, 16 Character/Line표시

Power: 230 VAC, 50/60Hz

Accuracy:
2.5% (0.5 Ohm to 5 Ohm )
5% (5 Ohm to 50 Ohm)

Reproducibility:2% at 23C +- 2C ambient Temperature

Resolution : 0.001 ~1 Ohm depending on MEasuring Range

표시속도 : reading 2 / second

Spacing :1, 10,25 mm

Distance from head to Metal Coating : 1~20mm(Depending on Calibration)

Operating Temperature Range: 0° to 45°C

Storage Temp: -20~85C

Relative Humidity: 85% (No Dewing)

외관: 260mm x 135mm x 240mm , 4.5kg 25VA


Serial Interface: V.24/RS-232C

Limit Switches: 2 set-Points
......OutPuts : 2 relays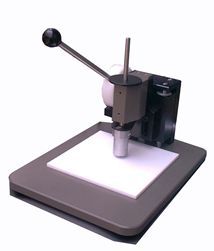 Type Order Information
NSRM-12T-10 : Instrument includes measuring tool with 10mm spacing
NSRM-12T-25 : Instrument includes measuring tool with 25mm spacing
NSRM-12TS : Instrument includes measuring tool with 1mm spacing
.................. and extra small measuring spot.(ex: segment capacitor foil)